Japán igazi őslakói, akik az örök mosolyt tetoválták az arcukra
Kevesen tudják, hogy Japán őslakói nem a japánok voltak, hanem egy, még ma is létező népcsoport: az ainuk. A régészeti feltárások bizonyítják, hogy az ainukok első csoportjai Észak-Ázsiából és Kelet-Ázsiából az akkor még létező földhidakon keresztül érkeztek a területre kb. 35 000 évvel ezelőtt. A ma már turistalátványosságnak számító ainukok között elterjedt volt az úgynevezett "örök mosoly", amelyet a nők szájára tetováltak.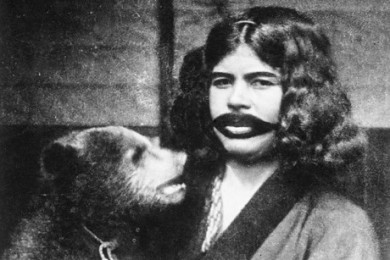 A tudomány jelen állása szerint Japán őslakói, azaz az ainuk egykor nagyobb területet népesítettek be mint Oszaka, de napjainkra már csak pár ezres maradékcsoportról beszélhetünk, amely visszahúzódott az északi fősziget zártabb és nehezen megközelíthető vidékeire.
Az ainuk mind faji és nyelvi hovatartozása vitatott, főként azért, mert írásbeliségre még máig nem akadtak a kutatók. A feltételezésekre és a korai krónikákra támaszkodva elképzelhetőnek tartják, hogy azonosításuk az ezókkal (hosszú és bonyolult történetű, máig megfejtetlen jelentésű japán név) lehet összefüggésben. Az biztos, hogy az ezókat és az ainukat azért is lehet egy lapon említeni, mert egyik csoport sem hódolt be a Jamato-udvarnak, az első japán államhatalomnak.
Fizikai megjelenésükben sem egészen hasonlítanak az ainuk az általunk ismert japánokra, hiszen dús szőrzetük, világos bőrük és gyakran az arany színre emlékeztető szemmel rendelkeznek, emiatt sokszor kaukazoidnak vagy ausztraloidnak tartják őket, habár a csont- és vérelemzések, valamit más genetikai vizsgálatok alapján inkább az urál-altaji népcsoportba osztják őket. Az ainukat a 20. század közepéig mindenféle hátrányos megkülönböztetés érte, számuk az idők során rohamosan csökkent.
Japánban megközelítőleg húszezren tartják magukat ainuknak, de ők többnyire a vegyes házasság miatt. Érdekesség, hogy az ainu-japán frigyből született lányok sok esetben olyan gyönyörűek voltak, hogy számos 50- és 60-as évekbeli mozicsillag és manöken került ki közülük.
Az ainuk számára 75 éven át tiltott volt, 1983 óta viszont már megülik a háromnapos novemberi bagolyistenünnepüket. A legfontosabb rítusuk viszont az iomante, vagyis a medveünnep, amikor egy, a közösség által (állítólag egy ainu asszony emlőin táplált) felnevelt állatot, mint az istenségük megtestesülését három napon át hálaadó szertartásokkal illetik. A rituális szertatás végén az állatot levágják, hogy eredeti istenalakban visszatérhessen. A ceremónia sok esetben turistacsalogató jelenség…
Az ainuk nők jellegzetes tetoválásaikról is könnyen megkülönböztethetőek voltak, hiszen többek között az arcukra varrták az "örök mosoly" tetoválást, amit az évek során folyamatosan bővítettek az első menstruációtól a házasságig. A hagyományt mára már betiltották, az utolsó tetovált ainu nő 1998-ban halt meg…
A japán országgyűlés 2008-ban sikeresen, egyhangúlag szólította fel a kormányt, hogy az ainukat ismerje el, mint őshonos nép. Külön nyelvvel, vallással és kultúrával véget vetettek az évszázadokon át tartó megkülönböztetéseknek.
Forrás: wikipedia/nyest/transindex/rbth